AAWW & Books Are Magic Present: King of the Armadillos with Wendy Chin-Tanner & Alex Segura
This July, AAWW and Books Are Magic come together to celebrate KING OF THE ARMADILLOS, Wendy Chin-Tanner's transcendent debut novel about family, love, and belonging, set against the backdrops of 1950s New York City and a historical leprosarium in Louisiana, following one young man's quest to not only survive, but live a full and vibrant life. 
Victor Chin's life is turned upside down at the tender age of 15. Diagnosed with Hansen's disease, otherwise known as leprosy, he's forced to leave the familiar confines of his father's laundry business in the Bronx – the only home he's known since emigrating from China with his older brother – to quarantine alongside patients from all over the country at a federal institution in Carville.
At first, Victor is scared not only of the disease, but of the confinement, and wants nothing more than to flee. Between treatments he dreams of escape and imagines his life as a fugitive. But soon he finds a new sense of freedom far from home – one without the pull of obligations to his family, or the laundry business, or his mother back in China. Here, in the company of an unforgettable cast of characters, Victor finds refuge in music and experiences first love, jealousy, betrayal, and even tragedy. But with the promise of a life-changing cure on the horizon, Victor's time at Carville is running out, and he has some difficult choices to make.
A groundbreaking work of historical fiction, King of the Armadillos announces Wendy Chin-Tanner as an extraordinary new voice. Inspired by her father's experience as a young patient at Carville, this tender coming-of-age novel is a captivating look at a forgotten radical community and a lyrical exploration of the power of art.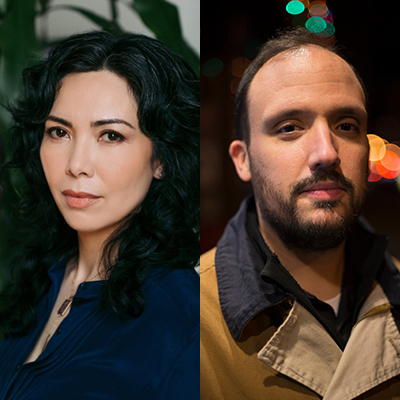 Wendy Chin-Tanner (left) is the author of the poetry collections Turn and Anyone Will Tell You, editor of Embodied: An Intersectional Feminist Comics Poetry Anthology, and copublisher at A Wave Blue World, an independent publishing company for graphic novels. Born and raised in New York City, she lives in the Hudson Valley with her family. King of the Armadillos is her first novel.
Alex Segura is the bestselling and award-winning author of Secret Identity, as well as the SVP – Sales and Marketing at Oni Press and the author of Star Wars Poe Dameron: Free Fall and the acclaimed Pete Fernandez Mystery series. He has also written a number of comic books, most notably the superhero noir The Black Ghost, the YA music series The Archies, and the "Archie Meets" collection of crossovers, A Miami native, he lives in New York City with his wife and children. 
Event guidelines:
All attendees are strongly encouraged to wear a face mask at all times.
Tickets are limited to restrict capacity at our store, and each ticket will include either a copy of the featured book or a $10 Books Are Magic gift card.
Additional copies of the book will be available for purchase at the event.
A signing will follow the talk.
Home address is collected for contact tracing purposes; it will not be used otherwise.
The event will also be livestreamed for free online here.
As a reminder: If you are not feeling well, please do not come to the event, even if you have a ticket; email us and we'll work it out.
If you have any questions regarding these guidelines or to request accessibility accommodations, please contact eventhelp@booksaremagic.net.